Quartz Carpet is one of our most durable and resilient finishes. Used throughout residential and commercial interiors, Quartz Carpet has the visual appeal of a soft furnishing, except it's made from high-quality, quartz stones.
Quartz Carpet is hand trowelled at 5-7mm thick over a range of existing substrates. The finish consists of coloured quartz stone granules and a binder. Quartz Carpet is a preferred alternative over stone flooring, pebblecrete, concrete or exposed aggregate. Below is an overview of the different substrates Quartz Carpet can be applied over. Please note; we will always conduct a site inspection prior to installation to ensure the substrate is in a suitable condition.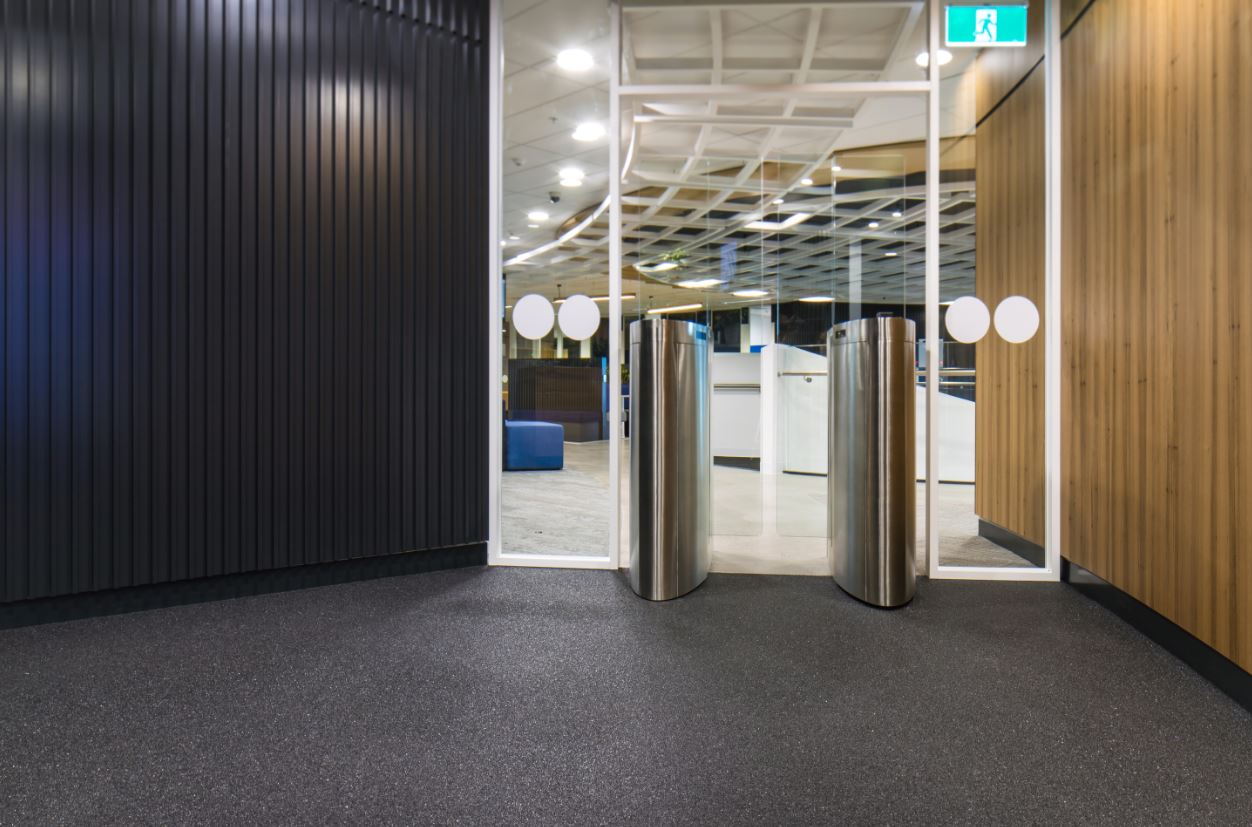 Durable and resilient floor covering
Concrete
Light grind or sand to make level, and free of debris. Where there is an existing expansion joint, profiles (in chosen colour) will be placed to allow for movement through the Quartz Carpet, minimizing the risk of hairline cracks.
Water Premeable Concrete
If you have water permeable concrete installed, quartz carpet can be hand trowelled ontop of this to create a water permeable system.
Tiles
Our surfaces allow you to remodel without removal. If you have tiles in your project that are in good condition, we can install Quartz Carpet directly on-top. This eliminates the hassle and expense of having to remove the tiles. Any damaged, loose or drummy tiles need to be removed and patched up. With tile application there are additional base coats that we apply to make the surface even, eliminating the grout lines.
Compressed Sheeting
If your internal flooring is timber construction you can still have Quartz Carpet applied to your floor. For these applications 12-18mm compressed sheeting (depending on the area of application) is to be screwed and counter sunk glued down prior to the quartz installation. Profiles will be placed at sheet joints and we will then hand trowel the Quartz Carpet exposing all profiles. The profiles need to be applied to allow for movement from the timber sub-structure.
Create a textured wall finish
Plaster, WR Board, Villa Board & Blue Board
For interior wall finishes Quartz Carpet is applied with a vertical binder at approx. 4mm thick to Plaster, WR Board, Villa Board & Blue Board. When applying Quartz Carpet over these substrates the wall must be prepared as if ready for painting. This means all joints needs to be taped and stopped up.
Concrete
Applying Quartz Carpet to a concrete wall is no different to installing over a concrete floor. A light grind or sand is required prior to installation and profiles will be placed where there is an existing expansion joint in the concrete wall.

Bring a textured feel to your joinery
MDF
Our surfaces are becoming more and more popular for internal joinery pieces. When using Quartz Carpet for joinery, it's important to keep in mind that the surface will not be smooth and flat, as the finish consists of quartz stones there will be texture. We don't recommend using Quartz Carpet to kitchen working benches and vanity benches. Before applying Quartz Carpet to a joinery piece we apply metal external angles at the edges. The metal angles make the edges more durable.
Marine Ply
Marine Ply is the substrate used for external joinery that's undercover. Before applying Quartz Carpet to a joinery piece we apply metal external angles at the edges.
Compressed Sheeting
Used for external joinery that is exposed to the elements, a minimum of 12mm compressed sheeting is used. Before applying Quartz Carpet to a joinery piece we apply metal external angles at the edges.
If you have any questions about substrate suitability on your project, get in touch with one of our reps via our contact us page.